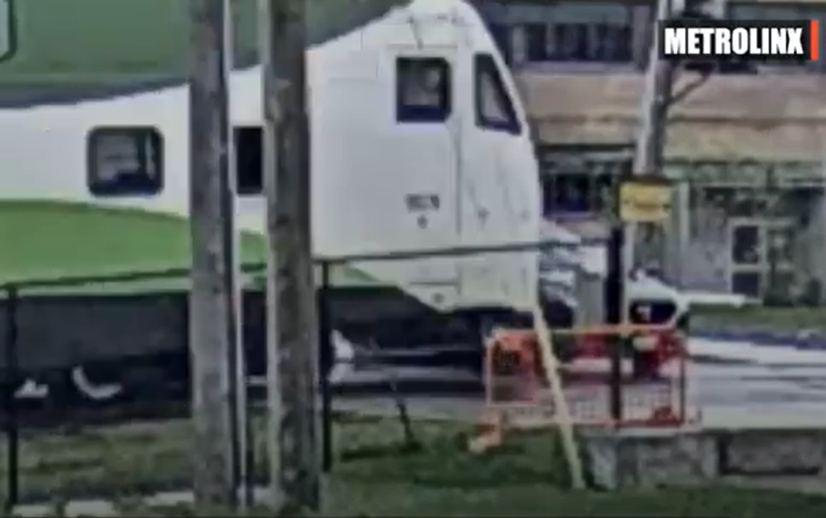 Video shows GO train strike car after driver rounds crossing
The driver left with minor injuries.
Content of the article
An impatient and reckless driver is lucky to be alive after trying to drive around lowered level crossing barriers and being hit by a GO Transit train.
Content of the article
Metrolinx released video of the incident in mid-May as a warning to other drivers.
The video shows a car illegally driving around with a lowered arm at a level crossing and being rammed by the train.
The driver walked away with minor injuries and faces charges for his "reckless acts," Metrolinx said in a statement Monday.
About 100 Canadians are injured or killed each year at level crossings, according to Operation Lifesaver.
"Most of these incidents, like the one in the video, are preventable," said Martin Gallagher, chief security officer at Metrolinx.
"Railway crossing collisions are caused by pedestrians, cyclists and motorists who deliberately take risks or make poor decisions by mistake, habit or distraction.
"Everyone should be alert at level crossings and remember that trains are moving fast and can appear at any time."
Metrolinx reminds people to be careful and obey all signals at railway crossings.
"Railway crossing safety doesn't happen by accident," said Fay Pittman, chief engineer at Metrolinx.
"This requires the constant vigilance of each of us to protect each other."