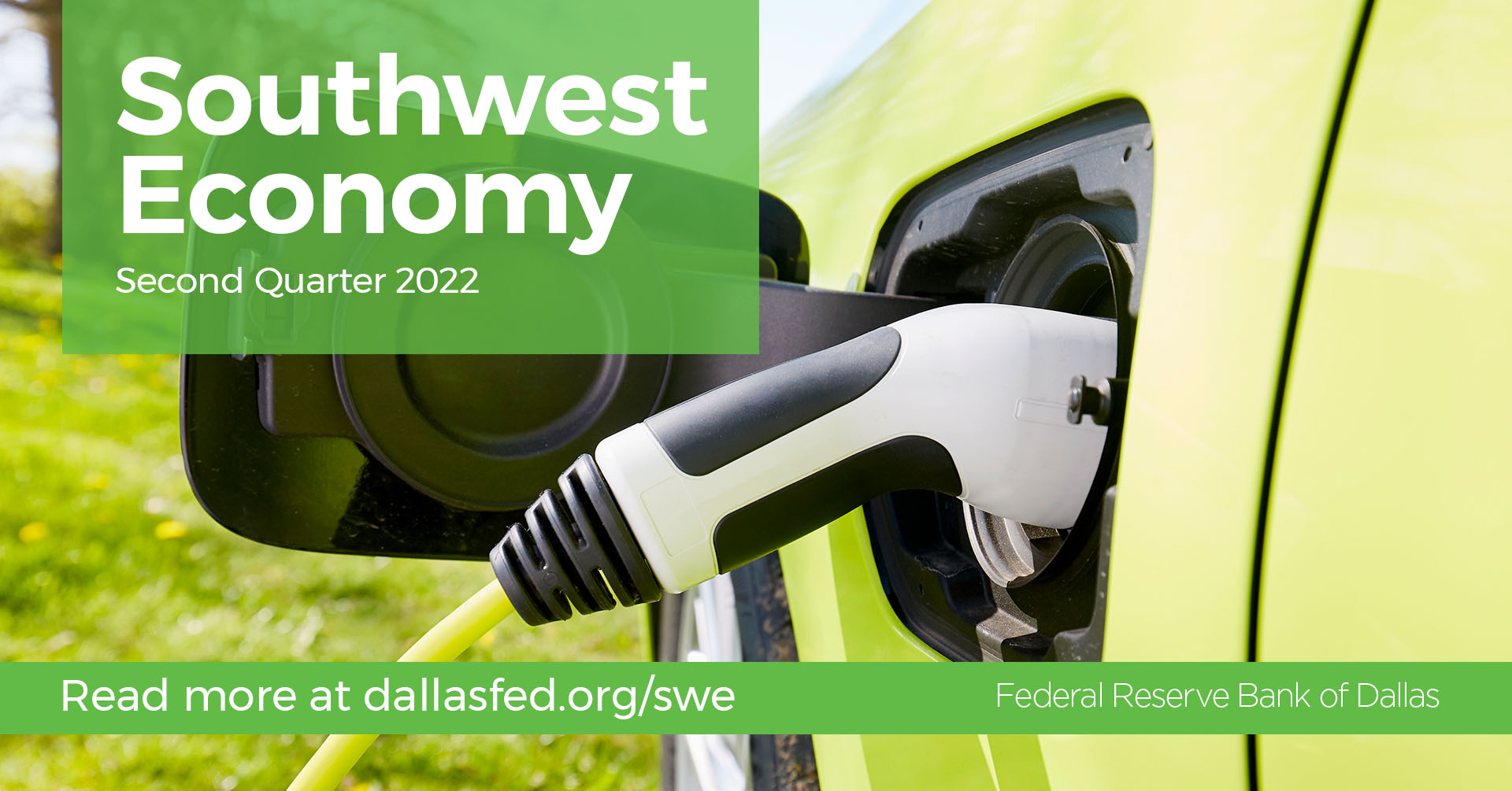 Spotlight: Federal Dollars Could Power EV Charging Across Texas
Southwest economy, second quarter 2022
Surveys often reveal that consumers who are reluctant to switch to electric vehicles cite inadequate charging facilities. The recently approved Federal Infrastructure Investment and Jobs Act aims to address these concerns, providing funds to expand charging infrastructure along highways and in rural areas.
A total of $7.5 billion is earmarked to build 500,000 Chargers by 2030. Texas is expected to receive more than $400 million over the next five years, the most funding of any state. That could roughly double the number of charging stations along Texas highways.
The new installations will increase the number of DC chargers, the most powerful chargers available, capable of "recharging" even the largest batteries in around 30 minutes. Less powerful chargers, although less expensive, are much slower and can take hours to fully recharge.
Infrastructure in Texas
There are 266 charging stations with DC charging ports throughout the state.[1] More than 80% of these charging stations are near the Dallas-Fort Worth, Houston, Austin and San Antonio metropolitan areas (Chart 1). The rest are scattered across the state, mostly along highways.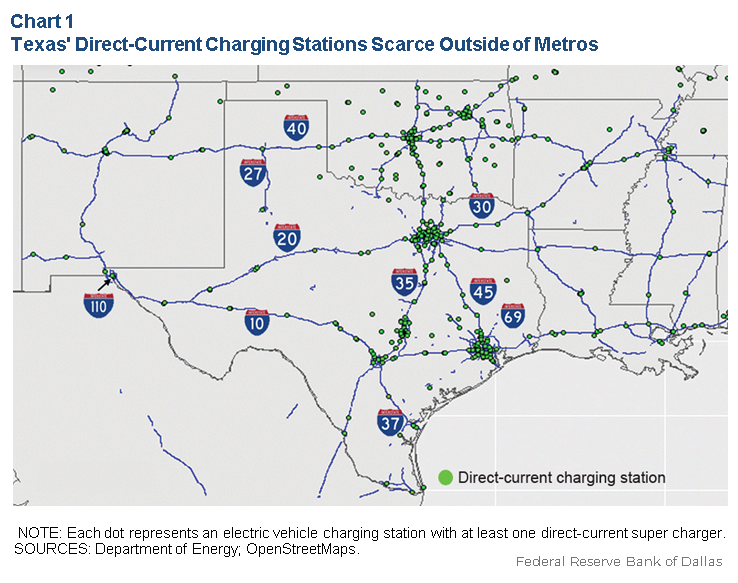 Fast chargers are concentrated in the larger metros, as this is where most electric vehicles are located. Data shows that these areas account for more than 85% of the approximately 88,000 battery electric vehicles registered in Texas.[2]
Increase access to charging
The low number of electric vehicles in rural areas reduces the economic incentives to build commercial charging stations there. As a result, infrastructure remains scarce in rural areas of Texas and, more generally, in most neighboring states.
At the same time, a lack of charging infrastructure is thought to be holding back the uptake of electric vehicles – the scarcity of facilities makes owning electricity less convenient for those who cannot charge at home or at work. Additionally, while the range of electric vehicles has increased dramatically in recent years, surveys have revealed that consumers remain concerned about charging on long trips away from home.[3]
For the 2021 model year, gas-powered cars had a median range of around 400 miles with one tank of gas; most EVs travel 60-80% of that distance on a charge.
A total of $5 billion has been allocated for fast-charging infrastructure, requiring stations with at least four DC fast-charging ports at least every 50 miles along highways. An additional $2.5 billion will support billing in rural areas and other underserved communities.
States must submit final charging station plans to the Joint Bureau of Energy and Transportation by August 1, 2022, for review and approval by the Federal Highway Administration by September 30, 2022.
Although the Texas Department of Transportation is still planning, the agency has identified numerous "study areas" along major highways and in nearly every county in Texas where new charging stations could be installed. .
Further planning and installation could take up to 18 months, but greater accessibility to charging infrastructure seems likely.
Remarks
National Renewable Energy Laboratory, US Department of Energy, accessed May 25, 2022.
about the authors
South West Economy is published quarterly by the Federal Reserve Bank of Dallas. The opinions expressed are those of the authors and should not be attributed to the Federal Reserve Bank of Dallas or the Federal Reserve System.
Articles may be reprinted provided the source is credited to the Federal Reserve Bank of Dallas.
The full publication is available online: https://www.dallasfed.org/research/swe/2022/swe2202.