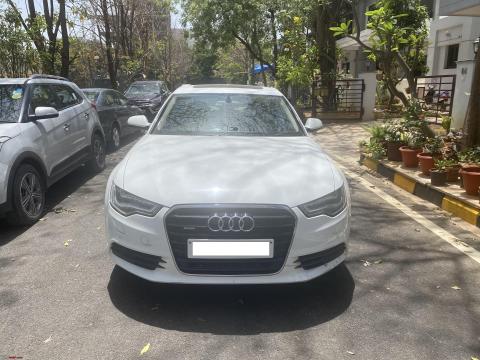 NGT ban in Delhi-NCR: what to do with my pristine 10-year-old Audi A6?
The best thing you can do is go to a car dealership and sell them for their parts. It's better than throwing it away.
BHPian varunsahgal recently shared this with other enthusiasts.
I have a 2010 Audi A6 2.7 TDi that has only done 40,800 km with 3 new tires. The car is without scratches and in beautiful condition. I don't understand the government's policy of declaring my car non-road. Really polluting vehicles are still on the road and other sources of pollution are not banned, but cars are an easy target. The RC of the car is valid and active, but the RTO does not issue an NOC, so the car can be transferred to a state where this law does not exist. It is unethical pressure on people to waste their hard earned money. These legislators use cars, etc., with our tax money, so they don't care.
What can I do so that this beautiful car does not get lost? Please advise.
Here is what BHPian Shreyans_Jain should say about it:
You can't do anything. Your car is already more than 10 years old. You can't really sell it now, you won't get the NOC. Ideally, you continue to use the car locally or for off-station journeys without entering Delhi or Gurgaon, until your RC runs out. After that, you will need to discard it.

There is no alternative. I had my Scorpion scrapped for the same reasons.
Here is what BHPian rishi.roger should say about it:
The best thing you can do is go to a car dealership and sell them for their parts. It's better than throwing it away. German cars have expensive spares, so maybe they can buy cheap spares as long as it's a popular model. It also seems an eco-friendly idea, at least better than disposal.

I wouldn't recommend selling it to a local village etc as the car will probably not be insured. In such a case, God forbid an accident occurs, then you will be held responsible as the owner of the car. In addition, you will have to fully bear the damage. Also the RC cannot be transferred as it is no longer valid so the car will still be in your name as it is your responsibility no matter who drives it.

PS: Don't even take it out on the road. Even if someone deliberately hits your car or jumps in front of it (people who know the vehicle is no longer allowed on the road might do it deliberately, it's easy money), you might face situations difficult and people CAN twist your arm for money. It is easy to find out about a vehicle and its validity as well as to use its registration number.

He's sorry for the car, the owner and the environment, but there's not much to do now.

There are some weird ways to keep the chassis by retrofitting an EV kit (which makes it legal I think) but I have no idea how feasible, possible and meaningful it would be in a car like Audi .
Here is what BHPian Rachit.K.Dogra should say about it:
I'm in the same boat as you. I have an October 2011 Vento and have done my best to keep it well. It's so bad to be forced to buy a new car when your old car is working perfectly fine. That too in this time of inflation where car prices have gone to the next level.
Here is what Colcol BHPian should say about it:
As many have pointed out, the car is only good for scrap inside the NCR. However, if you manage to get it out of the metro area, you will still be able to use it outside the NCR boundaries until the CR expires. If this use case isn't feasible, the best solution, in my opinion, would be to sell it to a reputable scrap agent and get a certificate that the car was scrapped to protect you from any future liability.

I totally agree with you that the rule doesn't make sense, but it is what it is.
Check out BHPian's comments for more ideas and information.