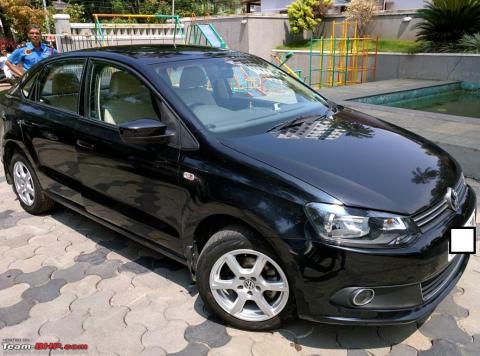 Mid-life service for my VW Vento TSI DSG: Remap, HU upgrade and more
Practically thinking, there was no real reason to upgrade. The car ran well and looked and felt like it did on day one of purchase.
BHPian Rajeevraj recently shared this with other enthusiasts.
It's been almost 9 years since the Vento TSI DSG came home. The Odo is located at a fairly modest 71,000 km. The journey with the car has already been documented in detail in this thread.
It was one of the first batches of Vento TSI delivered and buying a car with a DQ200 DSG was definitely considered a major risk at the time. Unfortunately, I guess even today it's a risk and gets called out all the time when there's a discussion about buying one of the cars with the DQ200. Luckily so far the experience has been trouble free and I have been able to fully enjoy the TSI DSG combo for the past 9 years.
As is natural, as the car ran out of warranty, then extended warranty, then extended warranty, the upgrade ideas kept popping up. Never really translated to live action as prices continued to rise and even the same segment (ok yes, with a few extra bells and whistles) now costs almost double what I got the Vento for. The next segment is now well north of 30Lakhs and an upgrade didn't seem realistic right away.
Practically thinking, there was no real reason to switch to. The car ran well and thanks to VW's build and quality (again questionable with the new platform and new cars) the car looked and felt like it did at first day of purchase.
That said, for the past few months I wasn't getting that feel from the car. There were no obvious issues, it worked great, but there seemed to be a lot of little issues that were contributing to my discomfort.
So he decided it needed to be looked at by an expert and didn't want to send it to VW service or a general multi-brand centre. Also, I wanted to start doing things to freshen up the car that I knew would satisfy upgrade itch in the near future. I also didn't want to go to 3 or 4 different places to do different things.
I made a list of things I wanted to do. It was a mix of functional improvements and good improvements. Of course, this has all been done by other Polo/Vento owners on several occasions. So there may not be anything terribly new here, but there's always excitement when we finally do it for ourselves.
Proper service and inspection to eliminate minor worries
Headlight and fog light upgrades
Revision of suspensions
New tires
New mats
Upgrade to an Android HU
A full detail session
(last but not least) A remapping of step 1
The details had to be done after everything else and since I knew the right places for it, I kept them as a priority. For the rest of the elements, I wanted to do it in one place.
After some research on the right place to do this, based on references from this forum and some great reviews on the web, I decided to approach Engineering Exponents-Whitefield (Rental) with this list of things. Engineering exhibitors are WolfMoto's authorized partners in Bangalore and had read many cars running Wolfmoto remappings here in the forum and also outside.
I contacted Engineering Exponents via Instagram and the response was quick. I had a chat with the owner-Jayant who confirmed that all my requirements could be catered for. I went down to the workshop and met his team and felt the car would be in good hands. Finalize the appointment and drop off the car on the agreed date.
The final list of things that were done below. Share link to individual posts for quick and easy reference
A few words about the engineering exhibitors. Run by Jayant who has a past history with motorsport racing, EE was initially launched focusing on motorsport builds and performance upgrades and is the official partner of Wolf Moto in Bangalore. Seeing the gap in the market for reliable, high-quality maintenance with personalized attention and high-quality parts, they now provide complete end-to-end services from regular maintenance, audio work, work paint jobs and of course remappings and custom builds which continue to be a central focus. I have personally tried different service options over the past few years with mixed results. With EE I was happy that it was a one stop shop and that I could interact closely with the people actually working on my car who clearly had the expertise to work on those cars. I expect to go to Engineering Exponents for all work on my car in the future. On the other hand, it's not a very large setup (although in the process of expanding and adding capacity) so be prepared to wait for an appointment and give the team plenty of time to work on the car.
Service update
The focus was initially on regular service. As I had mentioned, even though the car was running well, a lot of things just didn't feel right. There seemed to be something wrong with the suspension, the gearbox felt more sluggish than normal in D, occasional shaking was among the common issues. Prajwal from the Engineering Exponents team conducted a detailed road test and after the inspection the following items were listed to be done
Engine oil: Meguin 0w40 5000
Brake skimming
brake pads
Fuel Filter
Air filter
Cabin filter
oil filter
Change and adaptation of DSG fluid*
Mechatronic fluid*
Windscreen wipers
New tires
During the service, a few suspension related items were identified and replaced
Upper support with bearing
Connecting rods
*Okay, I guess the first question that arises is: "It's a DQ200 dry clutch gearbox and it's sealed for life" – What oil change? That was exactly my reaction too. Turns out the DQ200 has both gearbox oil and mechatronic oil. This is also detailed in this post DSG Debunked (DSG, Debunked! Everything You Need To Know About VW's Direct-Shift Gearbox). It is also 'sealed for life' but it can be changed and when EE recommended changing it I decided to go with it as well. It is not an easy thing to do and definitely requires good expertise and knowledge.
There is the DSG adaption process which is done (again something I was unaware of) usually for new or replaced gearboxes. When the DSG oil is replaced, this process is carried out. Simply put, it is the process of going through pre-programmed steps and values ​​for various parameters to adapt the gearbox to real-world conditions. There was an issue encountered here where the gearbox was jerking in manual mode. This was eventually traced to a code that reset to a default each time the tool was connected and had to be manually updated. (Kudos here at EE for not only keeping me updated on this problem, but for explaining to me in detail what caused it and how it fixed it)
The rest of the service for regular maintenance activities was also completed and the grip on the top brackets and tie rods along with the new tires helped resolve the suspension related discomfort I was dealing with.
Basic upgrades
Tire upgrade
I have been using Michelin tires for over 4 years now. Last modification around 35,000 km. Although the distance was not great, the tires had become hard as confirmed during the inspection, and I decided to change them.
The recommended option was Continental UC6 – same size and profile as the Michelin (15,195,60). I've seen a lot of Polo/Vento owners opt for it and it seemed well suited to my type of riding.
Some pictures with the new tires.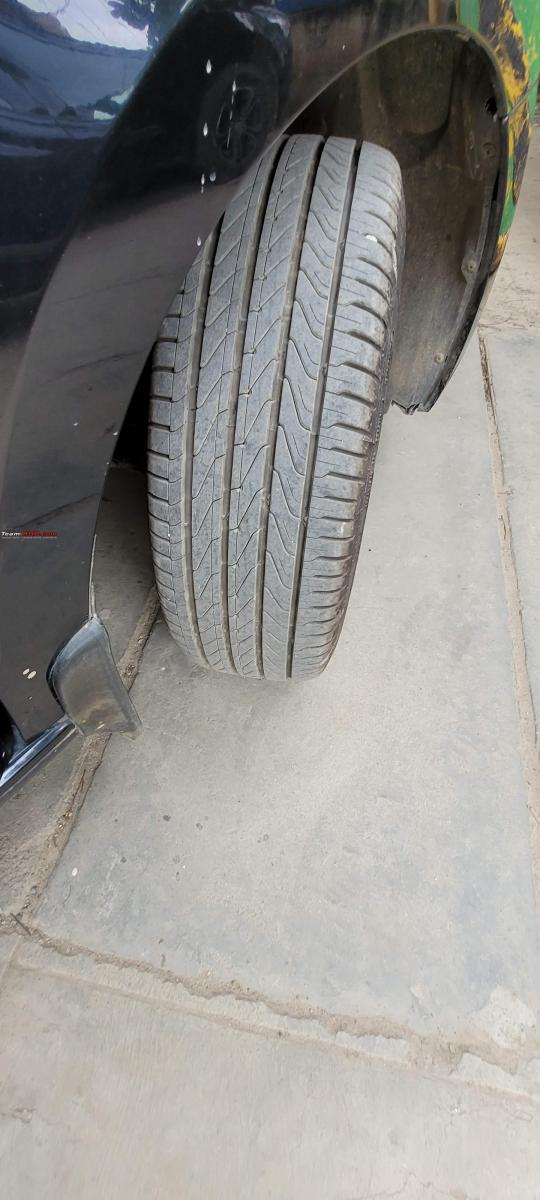 New mats
Although I've been thinking about upgrading mats for a long time, I never found something I liked and continued with OEM mats. It was by chance that I saw these carpets below at EE and at first sight herself loved it and immediately received it. There were also Velcro fasteners on it.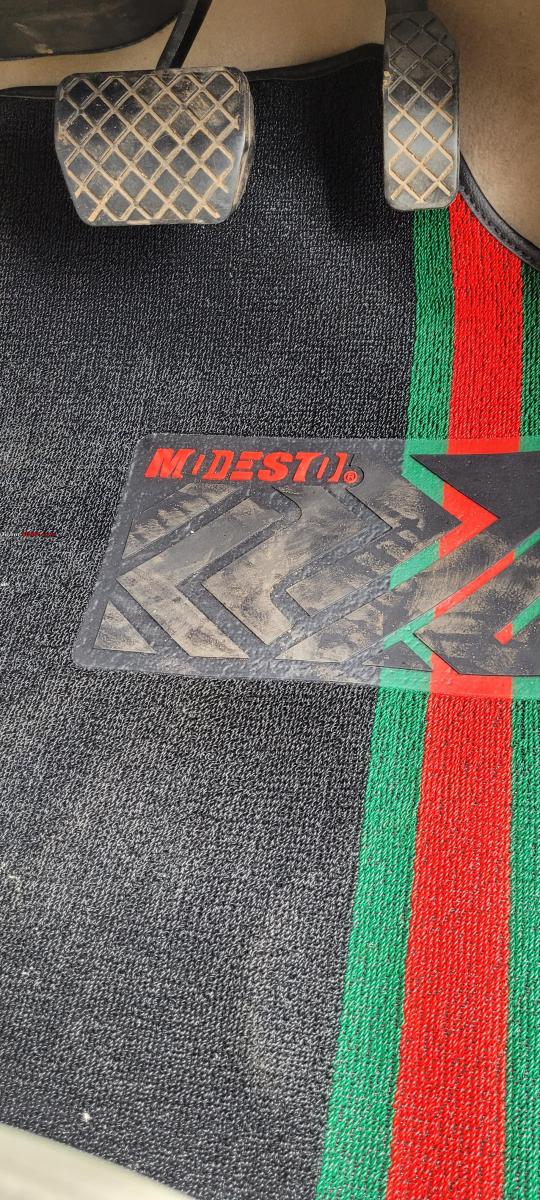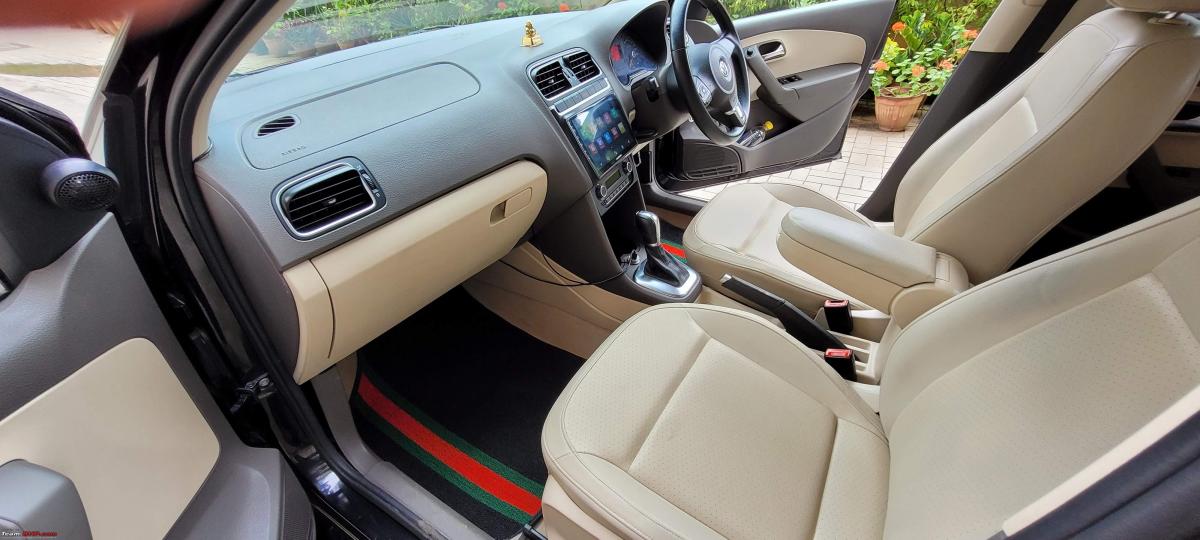 Keep reading BHPian Rajeevraj's report on how he spruce up his Vento for more insight and information.