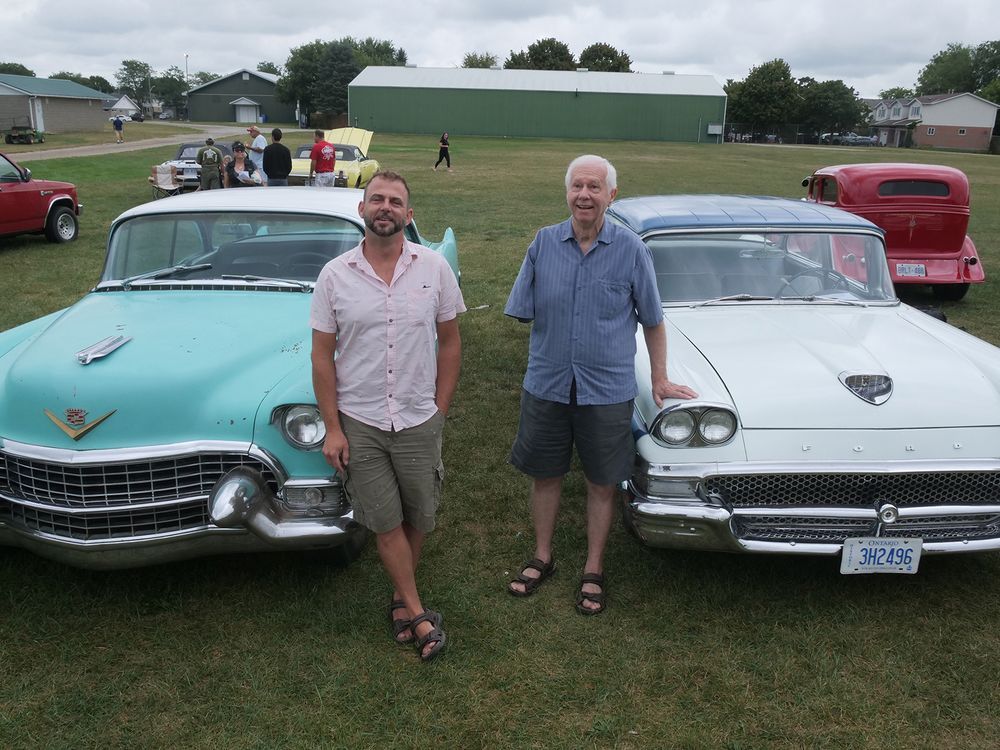 Auto Show Raises Funds for Branch 29 Renovations
Content of the article
PARIS Royal Canadian Legion Branch 29 in Paris raised money for accessibility renovations with a car display at the Paris Exhibition Center on Sunday.
Content of the article
"We had about 70 cars and we think about 150 people came," auto show chairman Roy Haggart said shortly after it started raining around 1:30 p.m., prompting them to pack their bags a few hours earlier.
Funds raised will go towards ongoing accessibility renovations at the Paris Legion, Haggart said.
"Accessibility stairs, chairlift…" he says.
"And the lighting," added Don MacLeod, President of Branch 29.
"It's an ongoing fundraiser," Haggart said.
"We have already raised $160,000 which we have spent on renovations within the Legion installing ramps, gates, everything else. It's an old building and it just takes money.
The chairlift will cost $15,000, he noted.
Nathan Sukmanowsky of Waterford and his father, Pete Sukmanowsky of Brantford brought two classic vehicles – a 1955 Cadillac Series 62 and a 1958 Ford Custom which they have owned for several years.
Content of the article
"When we got this one (Ford Custom)…it was faded, it had spots (of rust) and you could see the primer," said Nathan, who bought the Ford for his father.
"People said, 'No, don't paint it, leave it like that! ""
They decided to restore it with a new coat of Silvertone blue (with a metallic touch) and Wimbledon white.
"I wanted this color because it was the color we had in 1958 when my dad bought his first car," Pete said.
"It's not an arctic white, it's got a bit of blue in it," Nathan said.
"A little (blue) tint in it," Pete agreed.
The Cadillac, after 10 years, still had its original Wedgewood green, which Nathan says "looks a lot like robin's egg blue with a hint of green in it."
Nathan said he still plans to restore the Cadillac's finish, but it's a work in progress and he's not rushing.
"I used to go to a lot of swap meets (and car shows) before the pandemic, but there haven't been many in recent years. This is one of the few.
Ron McCready from Fenwick, Ontario in the Niagara region brought a 1969 Ford F-100, which he has owned since 1987.
"I didn't overdo it, just fill in the gaps," said McCready, who was a regular at car shows and cruise parties before the pandemic.
"We've had a few (recent cruise nights) in Dunnville and Welland where you just park. We just met, it was not organized.