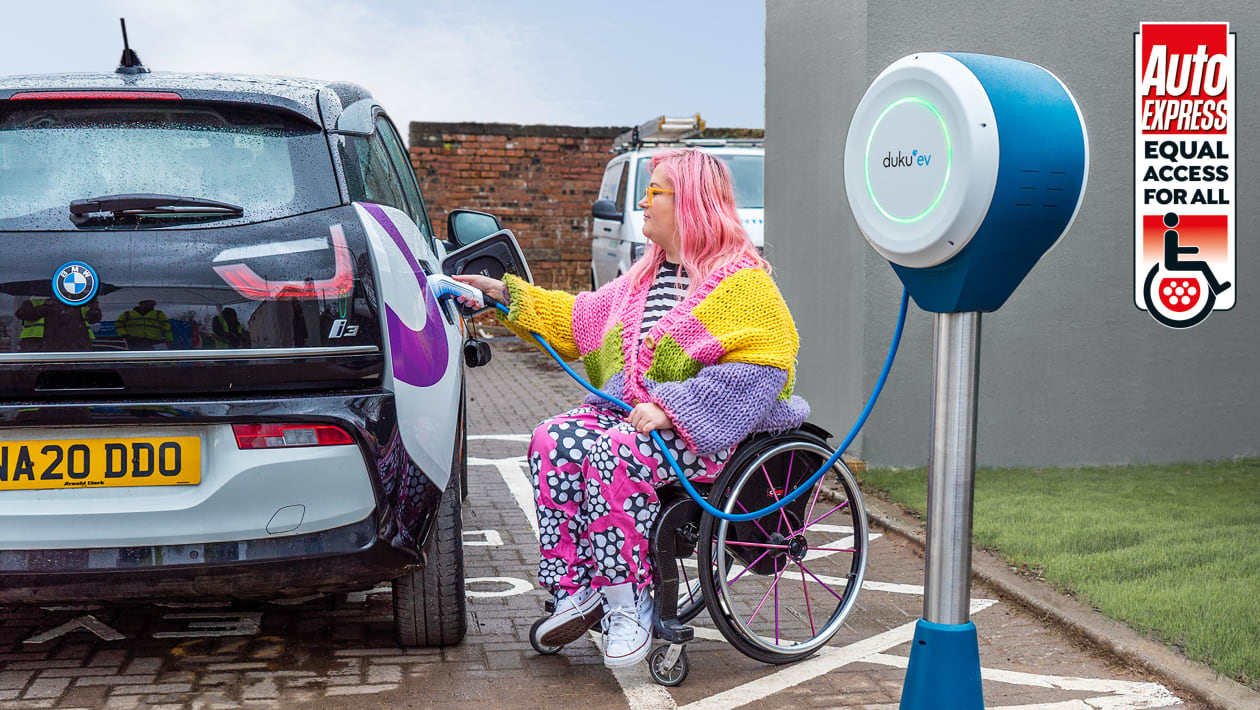 A new electric car charger answers the call for accessibility
Design agency Duku has unveiled a leading, fully accessible public charger for electric cars, featuring a range of features designed to remove barriers for less capable drivers.
The new design of the 7-22 kW charger has a patented fully assisted cable feed which is operated by buttons on the socket, so it can be deployed with one hand. A motorized drum delivers only the length of cable needed, eliminating the effort of winding and unwinding.
There's an accessible user interface designed to respond to advice on optimal graphics, information and color usage, and the charger has contactless payment so it doesn't need a touchscreen. , buttons or mobile phone application to operate. The device swivels 90 degrees so you can rotate it out of direct sunlight or route the cable to your vehicle. The cable and the unit itself are colored to improve visibility and reduce danger to visually impaired pedestrians.
Significantly, the design has no vulnerable cabinet that requires protection from scrapes or parking bumps. This means that the charger can be installed at road level, with no obstacles for wheelchair users, who can easily approach the unit. The secret is an impact-resistant base with a self-righting pole that protects the internal high voltage cables.
The plastic shroud at the base of the pole is designed to deform to absorb light shocks, or be quickly and inexpensively replaced following a larger shock. Duku claims its "plug-and-play" system means a unit can be replaced in 10 minutes using a pre-installed grounding box.
TV presenter, journalist and accessibility consultant Emily Yates, who drives and uses a wheelchair, took part in a recent trial of the charger in Dundee. "I find driving really liberating," she said. "Unfortunately, due to the lack of accessible charging infrastructure in today's market, I do not yet have an electric vehicle. After reviewing Duku's new charger design which provides a completely barrier-free solution for my needs individuals, this may well change in the near future!"
Duku manager Andrew Aylesbury told Auto Express: "The issues identified during initial research were primarily weight and difficulty in using cables, and obstructions around the base. A 'connected' charger means the user doesn't need their own cable, so we challenged ourselves to overcome the problem of moving the cable to the car and removing the need for terminals around the base. . He confirmed that the unit was being developed for mass production, potentially as early as 2024.
The new charger meets or exceeds draft guidelines for a new voluntary accessibility standard from BSI Group, which has just entered the public consultation phase and is expected to be published later this year.
Consultancy Urban Foresight worked closely with Duku on the eight-month charger project, part-funded by Innovate UK, and project manager Clare Pennington said: "With the potential to install hundreds if not thousands of charging stations before the guidelines were released, it's really important for organizations to be proactive and think about what they can do now to ensure their charging stations are accessible. »
Auto Express Equal Access For All Campaign